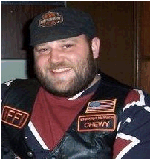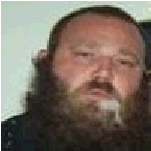 Embry, Joshua C. 'Chewy'- Josh, was born November 4, 1982, at Normal, Illinois and was the son of Robert L. "Scrappy" and Cathy L. (Slagel) Embry. God took him Home at 12:46 a.m. Sunday, November 16, 2008 while he was at OSF St. Joseph Medical Center in Bloomington, Illinois. He had been stabbed in the heart outside a country bar in this college town. He was a physically imposing, 300 pound, 26-year-old man who was not known to sell or use drugs. He was a member in good standing of one of the most respectfully regarded motorcycle clubs in the world, the Outlaws. He was stabbed in front of at least 30 witnesses. The murder was recorded on as many as four surveillance cameras. Joshua Embryís father is a biker and his only association with the Outlaws is that his dead son used to be one. An unsubstantiated but persistent, unpublished rumor in Bloomington is that Embry was stabbed while trying to defend another Outlaw. Robert Embry has spent most of his time trying to unravel the mystery of his sonís death. There are no publicly named suspects in Joshua Embryís murder. This young man is gone too soon. He had a fiance' and a myriad of friends and family who loved him dearly and are missing him each day. They want closure but in the meantime, they wish Josh could come back. This happened all to fast and sudden. He is riding the golden road in Heaven and is not suffering. He is spiritually with his loved ones until the day comes when each will join him. RIP, Sir. You were a great man and you are deeply missed. (Some excerpts were taken from The Aging Rebel dated Sun, Nov 8, 2009 and from an obituary in the Pantagraph at Pantagraph.com)
Josh's niece Crystal says: "R.I.P. Josh...The day will come justice will be served!! One way or another! You were a great man! Your life was cut too short...I miss hearing your bike...I miss your smiling face...I miss your laughs....and I miss you picking on me...haha! Ride in the wind...and one day we will meet again! Your lil buddy is getting so big...and hes a big tough guy with a soft side just like his Uncle Josh. I never got to thank you for all the times you watched him and the time I got in the wreck and you were at the hospital to check on me before anyone else...You beat me there...This household will always cherish your memories and keep them close. I always show lil charley your pics and remind him...I dont want him to ever forget you.
I'll never forget waking up that morning. I missed I think over 30 calls to tell me what happened...Its just wrong...I never got the chance to tell you I loved you cause I guess I thought you'd always be there...You were like the brother I never had. You teased me and gave me a hard time but when I was down and out you were serious and always there when needed. Thank you...thank you so much...You might not of been blood to me...but you were my family and always will be. God always takes the special ones home early...but you had so much more of a life to live...Keep an eye on us while we live in the cruel cold world and know you'll never be forgotten. You made an impression on everyone you ever came in contact with. You always looked like a big bad ass but we all knew you were nothing but a big ole teddy bear! Give Porkchop a hug and tell him we miss him too...RIP.."